Precision Machining and Precision Machined Components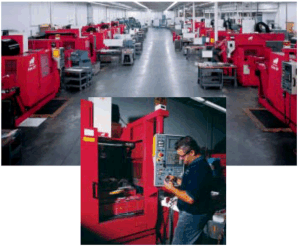 Algonquin Industries has become the leader in providing precision machined components for highly successful, highly diverse, high-tech companies, for a very good reason. We have perfected innovative techniques for cost-efficient solutions. We have assisted many companies in designing a wide range of challenging, complex, products and components that require extremely close tolerances. The combination of the highest level of insightful professionals and the very finest, state-of-the-art precision machining equipment results in prototype development, subassembly, and high volume production second to none. Our sister division, Hi-Tech Metals, Inc. provides critical assembly and fabrication support. Put us to work on your most challenging design, machining and production problems.
You can't achieve the high levels of success that we have with out a major commitment to Quality Control. From start to finish, Quality Control is built into every phase of production. Our highly qualified staff of Q.C. personnel, carefully monitor all production from a state-of-theart Quality Control facility and a Final Inspection room, located within the plant.